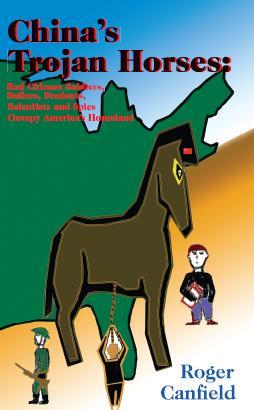 China's Trojan Horses
Red Chinese Soldiers, Sailors, Students, Scientists and Spies Occupy America's Homeland
CLICK HERE TO ORDER IN PDF FORMAT FOR $9.95:
(After completing your order with PayPal, PayPal will send the author an email, and you will receive your PDF file via a personal email from the author. If you need to contact the author about your order, use the form on the Contact page.)
REVIEWS:
"…The so-called 'Stealth Invasion' by 'Red
China [is] false and groundless… absurd…farce…" Wang Yunxiang, Consul General, People's Republic of China.
"After living and working in China/Taiwan for many years
never a truer work was written… ." Jeffrey Caddel, nat'l security advisor,
Parliament, Canadian Alliance.
"Brilliant. …The world's expert on the topic. An
incredible amount of research. An objective description of the China threat."
Brian MacAdam, an author of the Mounties Sidewinder report on Chinese espionage in
Canada.
"A wakeup call. …A must read for all Americans." Clive Cussler, best
selling adventure novelist and a discoverer of the Hunley, confederate
submarine.
"Impressive." Vic Rollandi, maritime, Reserve Officer,
Office of Naval Intelligence.
"Accurate… and of continuing interest." Sonny Fong, security
professional.
"Chinese spies are all around America. …The
FBI and CIA know this. It is an open secret." — Harry Wu, Chinese human rights advocate.
About author's book Stealth Invasion (over
300,000 in circulation):
"It's really very scary…God bless you." Jane Russell, film star and patriot.
About author's (and Richard Delgaudio's), China
Doll (over 700,000 in distribution):
"Congratulations…you are a patriot and a
great American." Judge William P. Clark, Chief of Staff and National Security Advisor to President Ronald W.
Reagan.
"Keep up the good work." Johnny Chung, convicted Chinagate figure,
government witness, and patriot reborn.
About Roger Canfield:
"We…are grateful for your efforts in fighting
Communism and helping us to restore democracy in Nicaragua." — Luis Wong, Nicaraguan Ambassador to the free Republic of China [on Taiwan].
About "What Red China Got for its Money": "Xenophobic,
racist flavor. …Puts the Scare back in Red China." Robert Gunnison, San Francisco Chronicle.